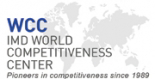 Stéphane Garelli
A World Authority on Competitiveness,
Professor Emeritus of World Competitiveness at IMD business school, and at the University of Lausanne, Switzerland
Founder of the World Competitiveness Center, former managing director of the World Economic Forum.
You will find a summary of some if the ideas highlighted by clicking the following link :
"Abstract of the presentation 2021
as well as examples of supporting slides. Because the economic and business environment is volatile, this material is regularly updated as circumstances evolve.